Filter Reviews
Width
Size
Fit
Support
Weight
Color
Comfort
Problem
Quality
Look
Feel
Pain
...
Style
Sandals
Cushion
Sneakers
Shoes
Feet
Wear
Foot
Dansko
Brand
Bottoms
Show
5.0 star rating

4.0 star rating

3.0 star rating

2.0 star rating

1.0 star rating
I love the look.
Review by Brenda on 14 Apr 2019
review stating I love the look.
I have a long slender average foot; but most shoes squish my little toes (so I ordered wide).
They look great, but the width is right on the edge of being too tight. Wearing anything except very thin socks is an issue.
Feet sweat, and toes need to be able to move and breathe. A smidge more width room would be fantastic.

I wear thin orthotics and the top and upper sides of the shoes feel good and are (thankfully) lightweight.

The sole took a bit getting used to as it was slightly flat or maybe even concave, as my normal gait was thrown off a bit. I made a lot of noise walking as it clacked hitting the floor.
Wearing the shoes every day for 8 1/2 - 9 hours at work on a concrete floor the entire time, the shoes are becoming more pliant and pliable.

I can't wait to see how they look and feel in another few weeks.

Venting would make an awesome addition.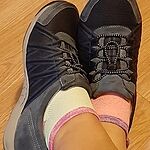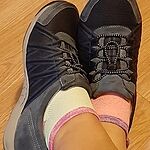 Most comfortable shoes ever!
Review by Rima on 10 Aug 2020
review stating Most comfortable shoes ever!
Most comfortable shoes ever!
Shoes that fit
Review by Kathleen on 23 Jul 2020
review stating Shoes that fit
It is huge for me to get a sturdy walking shoe small enough (size 35). As an older hiker, I can't have my feet swimming in my shoes and get away with it anymore. Great shoe and nice looking, too.
Love them!
Review by Ann on 10 Jul 2020
review stating Love them!
This is my second pair. These shoes give me terrific support, very comfortable, and they look good! I have a tricky hip and somehow these shoes provide the support and stability I need.
Perfect!
Review by Jane on 29 Jun 2020
review stating Perfect!
I love my new blue suede shoes, they're great with jeans and they're so comfortable! I'll definitely buy other colors!