Superior support for your feet
Review by Pamela on 2 May 2019
review stating Superior support for your feet
The downside is price, but you get excellent support from Dansko's arch system, nice stability, and of course they look great. I could not walk distances without these shoes. Roomy and cushioned, and even office-worthy in the right color.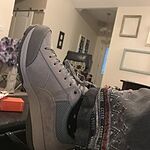 Ahhhhhhhh!!!!!
Review by Carol on 14 Dec 2019
review stating Ahhhhhhhh!!!!!
All day on your feet? Walking 15,000 steps or more, each day? Plantar faciitis? Aching back? This shoe is for you.
Finally bought my first pair of danskos
Review by Dahlia on 13 Dec 2019
review stating Finally bought my first pair of danskos
I'm a registered nurse and honestly was skeptical about buying danskos but I am definitely buying another pair now. Being obese and always on my feet I go through shoes rather quickly. As soon as I wore these shoes for a shift my lower extremities especially my ankles didn't feel as painful when I got home. The support is great and in regards to size they are true to it! My feet are wide so it's a bit difficult to find shoes with great support and comfort. These are definitely worth the price and as mentioned beforehand I am definitely buying another pair.
Paisley Black Suede
Review by Pat on 6 Dec 2019
review stating Paisley Black Suede
I loved the shoes, but had to return them for an exchange for a smaller size...haven't received the exchange yet. I love all Dansko shoes that I own!
Great Shoe
Review by CAROLYN on 4 Dec 2019
review stating Great Shoe
Beautifully made. Sleek profile (not a lot of bulging parts.) Feels great on the foot. Would not wear this shoe to walk very long distances -- better to do that with a sneaker -- but would consider modest trail hike. Would purchase again.
Q: Can these be washed in the washing machine if the insoles are removed?
A: Hello,
The Paisley is made of suede leather and we do not recommend cleaning them in a washing machine. We do have a product we recommend for cleaning suede and nubuck leather. Please click the link below to view this product.
dansko.com/nubuck-block-brush